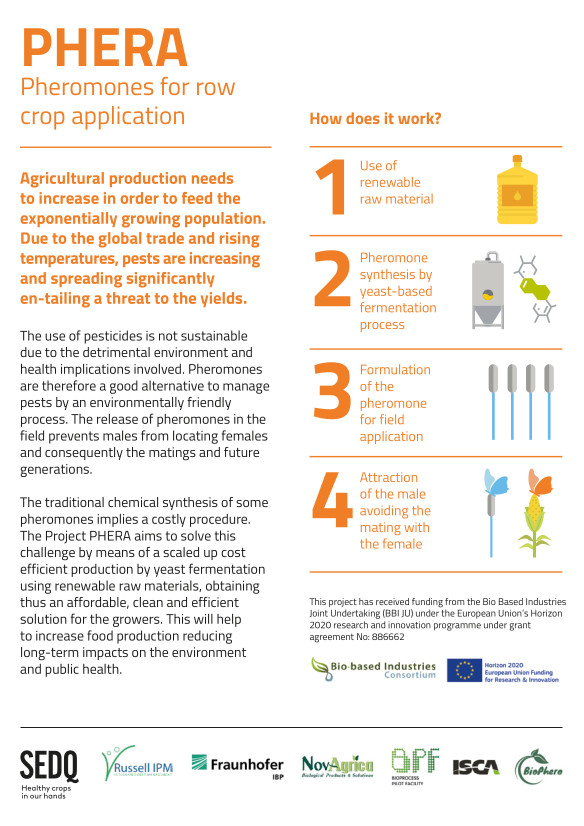 "At BBI JU we are very proud to fund the PHERA project which aims to develop and commercialise bio-based insect pheromones for Crop protection. Sustainable crop protection is a key challenge that supports the contribution of BBI JU to the EU Green Deal and the need for agricultural productivity to significantly rise by 2050 while keeping biodiversity."

PHEromones for Row crop Application (PHERA)
Agricultural productivity needs to rise by 70% by 2050 to feed a fast-growing population. This challenge is made difficult by the onset of insect pesticide resistance, increased regulatory pressure on crop protection chemicals, and consumer-driven demand for clean nutritious and healthy products. Pheromone insect controls, however, are safe, effective, affordable, and sustainable alternatives to toxic pesticides. Dispensing a pest insect's sex pheromones into the field disrupts their ability to attract or find mating partners, keeping the pest population numbers low and the crops safe. Crops protected with pheromones have less chemical residue and the natural biodiversity of fields and orchards is preserved.
Mating disruption offers an effective solution to pest control and an alternative to current chemical-based insecticides. This approach uses insect sex pheromones to disrupt their reproductive cycles. Unlike chemical-based pesticides, it preserves biodiversity and has no environmental toxicity.
Although the science of mating disruption has been understood and proven for some 20 years, the cost of pheromone production has been a barrier to its deployment. However, research into production via fermentation methods has been under development for around five years. This will be able to produce pheromones at a fraction of the cost of the synthetic alternatives. The dramatic drop in price will move mating disruption for pest protection out of its current niche of high-value crops and make it affordable and accessible for large-scale row crops.
Creating an effective biotech-based method for producing pheromones will address this challenge and allow for the wider deployment of this solution. PHERA brings together the required expertise in production and formulation.
The Bio-Based Industries Joint Undertaking awarded the €6.4 million grant for the 2020-2022 period to a consortium of companies involved in PHERA, which aims to scale up pheromone production and application technology and to drive commercialization into major row crops. The PHERA consortium consists of companies specialized in pheromone application: SEDQ Healthy Crops (Spain), ISCA Europe (France), Russell IPM (UK), and Novagrica (Greece), as well as in bio-based pheromone production: BioPhero (Denmark). The consortium is completed with scale-up expertise from BPF (Netherlands), and life-cycle assessment capabilities from Fraunhofer (Germany).
The pheromones used in PHERA will be produced by fermentation using renewable raw materials. The project thereby directly supports BBI JU's strategic objectives by establishing a new bio-based business for pheromone-based pest control in row crops, while helping to solve the major societal issue of achieving sustainable agricultural productivity growth.
The PHERA grant will be used directly towards two critical steps required for large scale implementation: Scaling up the production of pheromones to production in 100 cubic meter fermentation tanks, and conducting large-scale mating disruption field experiments in row-crops to prove the efficacy of the pheromone formulations offered by the pheromone application companies.
PHERA's key objectives are twofold; first to demonstrate the cost-efficient production of three bio-based pheromones at scale; second, to contribute to increasing agricultural productivity through sustainable methods.
From an environmental perspective, using a pheromone-based approach to pest control has minimal impact compared to existing pesticides. The production method – using yeast fermentation – is also environmentally friendly. The process uses renewable raw materials, such as glycerol.
The PHERA technology will make pheromones an affordable form of pest control for row crops. This will help to increase food production to meet the demands of a growing population while at the same time considerably reducing long-term impacts on the environment.
This will also create a new industrial sector, dedicated to the production of sustainable pest control approaches. Thus, by 2027 PHERA will help establish a new agriculture technology industry for mating disruption products for row crop production worth more than €600 million, creating approximately 300 new jobs.